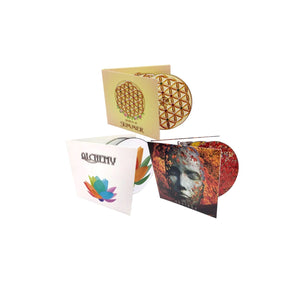 Over  7½  hours of soothing ambient wellbeing music to nurture the mind body & soul. My full music discography for the ambient music connoisseur.  Your perfect wellbeing partner. Ideal to accompany, Yoga, Healing, mindfulness and meditation.

Secrets of summer is my fourth album.'Secrets of Summer', a change of creative direction for the artist, encourages playfulness, relaxation and allows the mind to settle thanks to its dreamlike qualities created via the piano, saxophone, handpan and unique virtual instrumentation.
Equinox, is an ethereal, hauntingly beautiful collection of ambient soundscapes, accompanied by soothing piano, synth harmony, soft guitar, saxophone and distant choral arrangements. Perfect as an accompaniment to mindfulness, meditation, healing. Soothes away stress & anxiety
Alchemy is a magical collage of healing harmonies, an interwoven tapestry of pianoforte, scintillating strings and synthesis, acoustic and ambient guitars, saxophone, viola's accompanied occasionally by choral arrangements. Perfect for your healing modality, wellbeing practice or for deep relaxation.