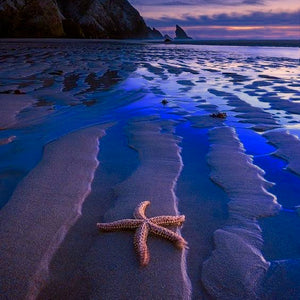 Tidal Pools makes a wonderful backdrop for relaxation therapies and audio recordings that require gentle music that won't take centre stage. Perfect also simply for your personal meditation and deep relaxation. Beautiful stringed synthesis with deeply relaxing gentle surf on a shingle beach. Enhanced by distant keyboards. There are no other background sounds or effects and the album is clear of volume fluctuations and changes.
Tidal Pools has soothing piano backdrop tempo  and soothing mood; and a very calm balanced musical work that permits effortless relaxation, mindfulness and at oneness.
* Basic Royalty Free licence included to cover the following.
1. The track may be used unlimited times as a background to your therapy sessions with clients.
2. You may use the track in the same session recordings you do with your clients. For example when conducting a therapy session with a client, the music can be included with your spoken recording which you then pass on to your client at the end of the session(s).
3. This album maybe used as a back drop to a healing sanctuary or group. This includes all forms and modalities of healing. i.e. Reiki, Spiritual Healing, Crystal Healing etc..
4. This album maybe used as backdrop to all massage sessions regardless of the type of massage.
5 . This album maybe used as  a back drop to other healing arts, for example, Reflexology, Aromatherapy, Guided meditation, 
6. This album maybe used as a back drop to all yoga sessions, and groups.
7. This album may be used in sound therapy.
8. This album maybe used in one monetised video to accompany your spoken hypnotherapy recording, for example, on Youtube or Vimeo.
The above is the extent to which the music maybe used free or Royalties.
The above covers all countries worldwide and runs indefinitely.